Two years ago I was able to break the chains with the office. I became a fully remote worker and, instead of becoming a trendy digital nomad, I used my brand new flexibility to work from home. For almost two years I had been wondering if it really made sense to travel while doing a good engineering job.
This is the story of my first experience working remotely from Thailand. Why and how I planned my trip and some learnings for the next time.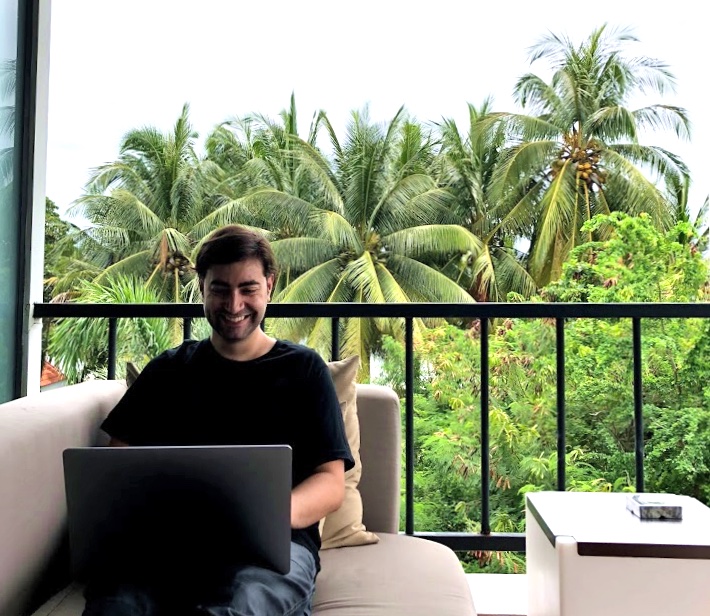 Flexible VS Remote
Despite the flexibility I already had achieved in my previous jobs, it wasn't until two years ago that I luckily swapped to a fully remote worker. Previous to that moment I already had a very flexible work schedule. I was allowed to work remotely for short periods of time (a few days) and this allowed me to do things like spending more time visiting my family, avoiding expensive and stressful friday-to-sunday short trips, keeping away from long commutes when the weather was terrible… However, at the end of the day, most of the action was still happening at the office and I couldn't accomplish the same work from a different place than my companies' office.
Flexible companies usually don't have the adequate mix of infrastructure and culture to allow you to do the exact same work remotely than on site. Sometimes important information will not flow with the same quality and speed. Other times you will need whichever service or device that's only available at the workshop of the office.
Furthermore, people working remotely will be excluded very often from important conversations and will feel isolated. Not because the workmates want to exclude them, but because there isn't a good remote culture nor good tools to keep communication alive.
Whilst a flexible work schedule has become a must for a basic work-life balance, in practice it doesn't change your lifestyle too much. Flexible workers will rarely choose to work remotely. It has been proven in different studies that during the time they are working remotely, they will suffer the anxiety of being excluded from important choices or miss-judged as low productivity teammates.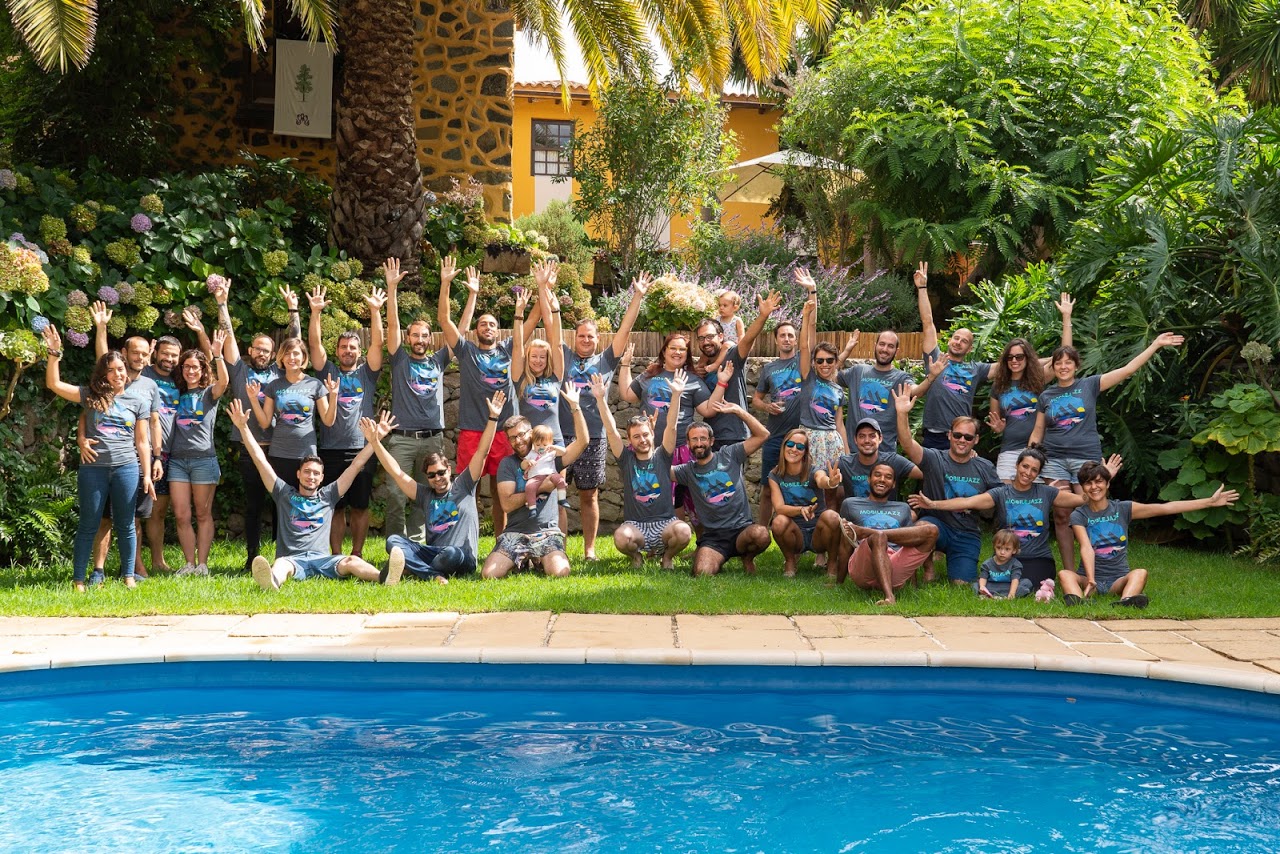 I currently work for Mobile Jazz. A remote only company.
To make working remotely work, a deeply established culture of remote working is needed, as well as the correct processes and infrastructures. Companies that really embrace remote working have to break all the barriers that virtually tie their workers to a physical location up to the point that this is not relevant anymore (not for you, not for your workmates, not for your clients). Once this happens, the office is very often remembered as a low productivity space.
For the record, having the correct mix of culture and tools still doesn't mean that everybody will start working from the beach or from a camper van in the countryside. It just means that everybody will be free to choose the place where they want to work and where they feel they can maximize their productivity. Maybe at the beach, maybe in an empty room at home (or maybe even in an office).
From non trendy lifestyle to non trendy digital nomad lifestyle
When I became a remote worker, some of my friends thought that I would immediately fly to a Caribbean country and I would spend my days working from different paradises.
In my opinion, this new wave of trendy digital nomad instagrammers is making a lot of noise and causing a lot of confusion around the world of remote working. Being a remote worker is not about spending as much time as possible jumping from plane to plane discovering the world and doing check-ins in Swarm. For me, to become a remote worker was just about taking back ownership of my life. An ownership that I felt had been stolen from me by the companies I used to work for.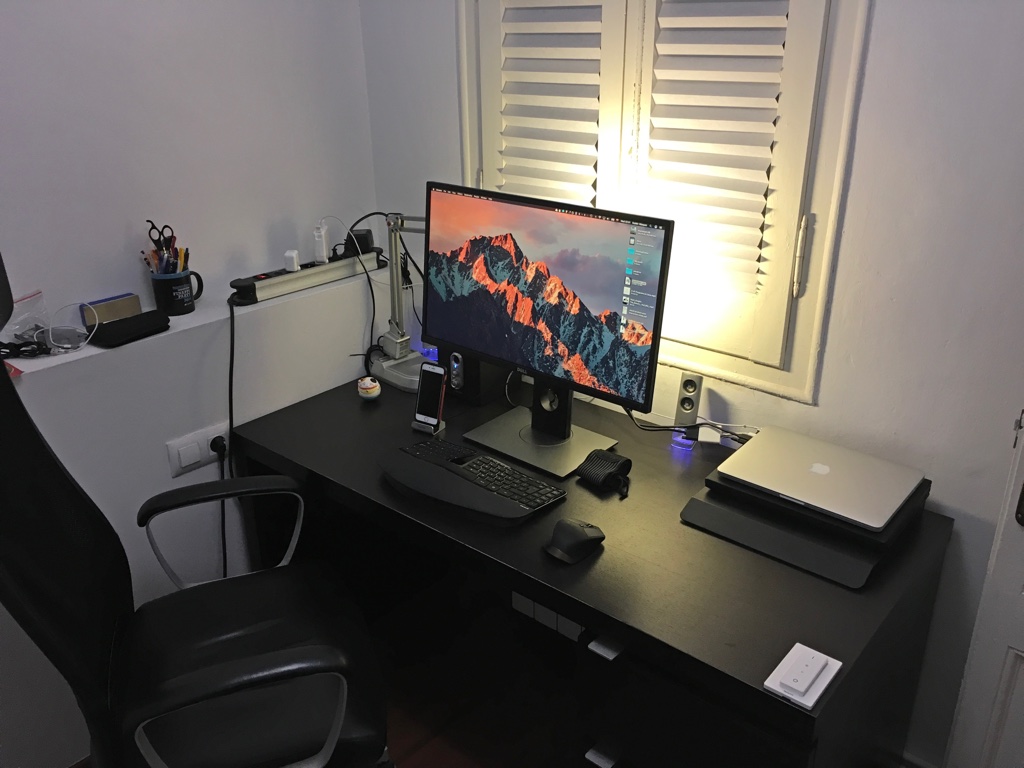 My office at my former home in Barcelona
During these two years as a fully remote worker I've spent most of the time working from my former home in the center of Barcelona and only recently from my brand new studio in Prague. I also spent a few weeks visiting my parents in Vigo and in the house of some friends here and there. But still, you will not find any idyllic workplace on my Instagram. And there is a specific reason for that: working abroad is uncomfortable.
I like to work in my back reinforced chair, with my 30 inch 4K display and listening to music on my hi-fi system. However, back in June this year something started to go around my mind: SOLO TRAVELING.
I recently had been reading several histories about traveling alone. A lot of solo travelers describing their experiences as some of the best of their life. Maybe because of the challenges of being alone in a foreign country, or maybe because of the extra time you get to focus on yourself and on your life. The fact is that nearly every solo traveler will recommend to travel alone as a life changing experience.
There is also a possibility that only successful solo travelers talk about it. You usually don't find Medium posts titled "How I spent my yearly savings to be alone and bored for a month in a foreign country".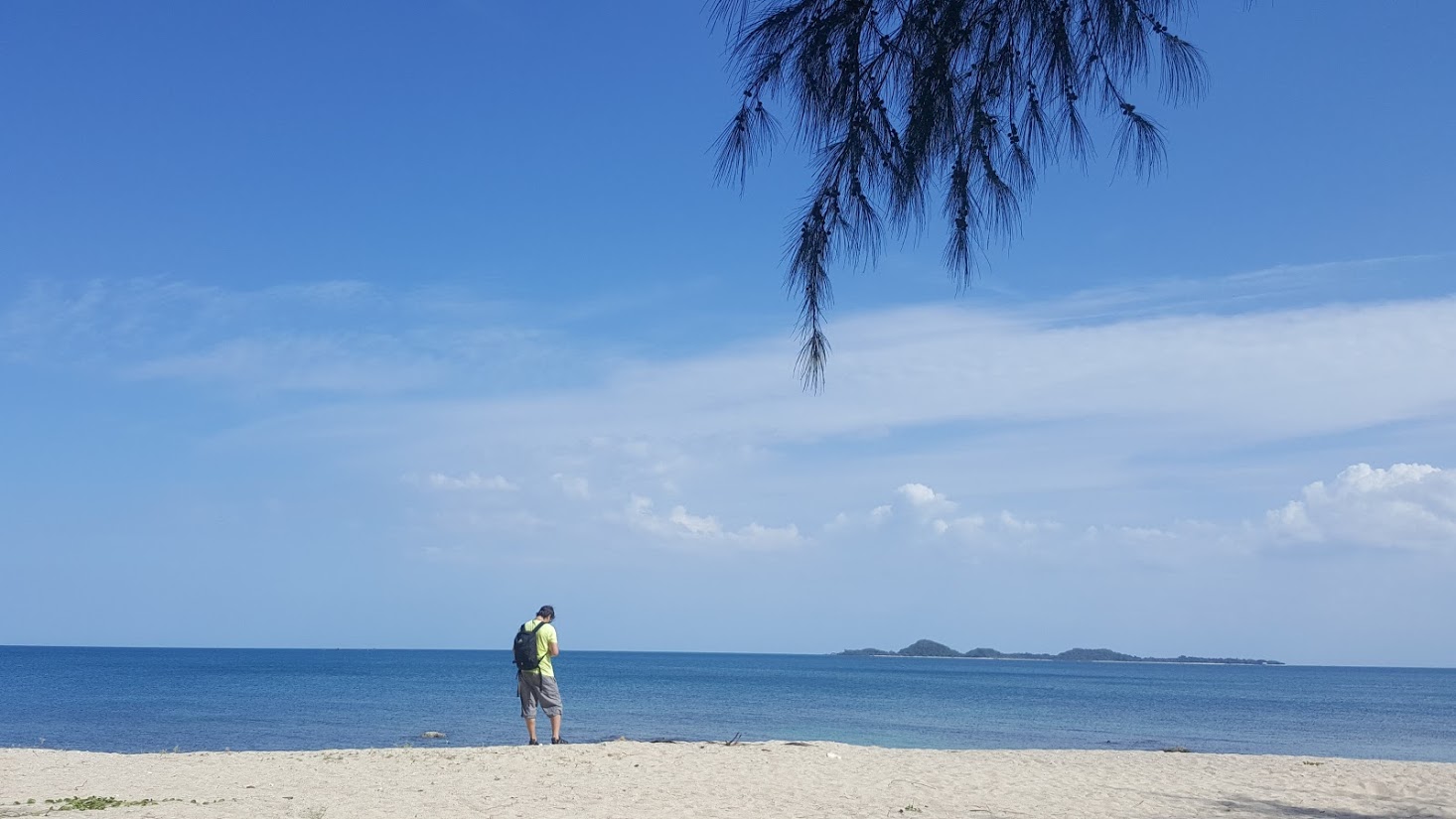 Solo traveling doesn't mean that you can't get any picture of yourself
The idea of doing my first solo travel was already in my mind and at the same time, as the summer was ending, I started to think about how much I would like to go back to Thailand. I'm the kind of person that takes emotional decisions, so all I needed was just a bad day matching a good price flight and I would be preparing my backpack.
This day happened around mid August. After taking a hard personal decision I was feeling down and I needed some positive energy. I remember being bored in the sofa thinking about "the life", watching the switched off TV and surfing around different airline websites, just imagining myself in another place.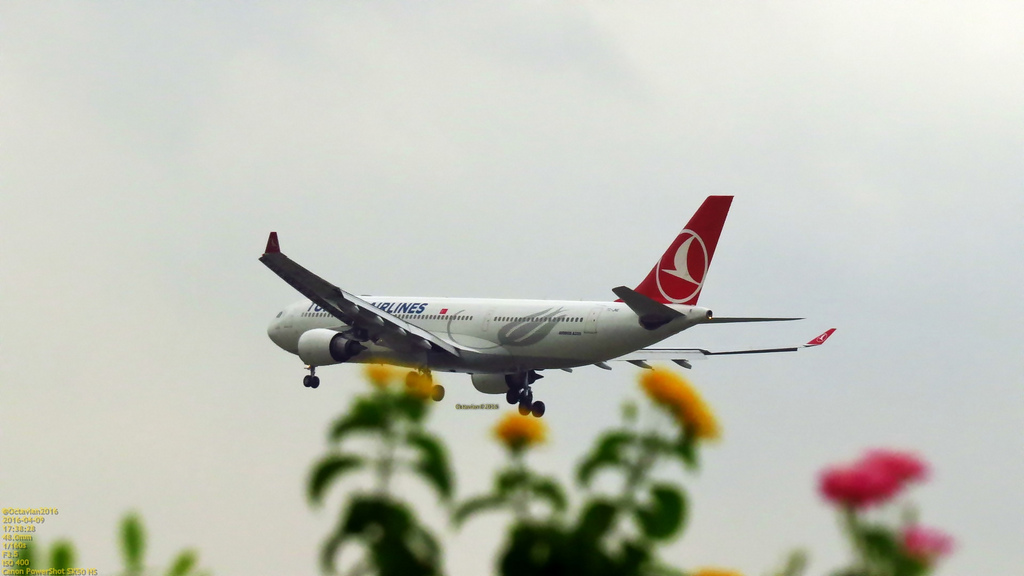 Picture Ferry Octavian
Suddenly, I found a sale in Turkish Airlines: round-trip tickets from Prague to Bangkok for less than 500€ in just two weeks. In a matter of seconds I was inserting my Visa number in the Turkish Airlines' site and starting to plan my trip. This is some of the magic of the 21st century traveling combined with the fully remote work. One minute you are sad thinking about yourself dying alone and 5 minutes later you are preparing a list of restaurants you want to try close to the beach.
Turkish Airlines is a great airline. It would be my favourite one if their hub wasn't Istanbul airport. Ataturk is getting worse and away from European Standards year after year. The toilets are dirty and the international connection area is just a crowded aisle in a corner. Sometimes it is so crowded that it is hard to find a spot to sit even on the floor. This year, Istanbul is opening a new massive airport that they expect to be the biggest hub in the world. Personal opinion: cleaning is not something you can fix by building bigger infrastructures.
Why Thailand?
I chose traveling to Thailand for two main reasons. The first one was that I had already been there. Going to a place I already knew made me feel somehow safe. The second reason was because I had a friend living in Koh Samui that I had promised to visit. This was, for me, enough motivation to jump from the sofa and start preparing my luggage.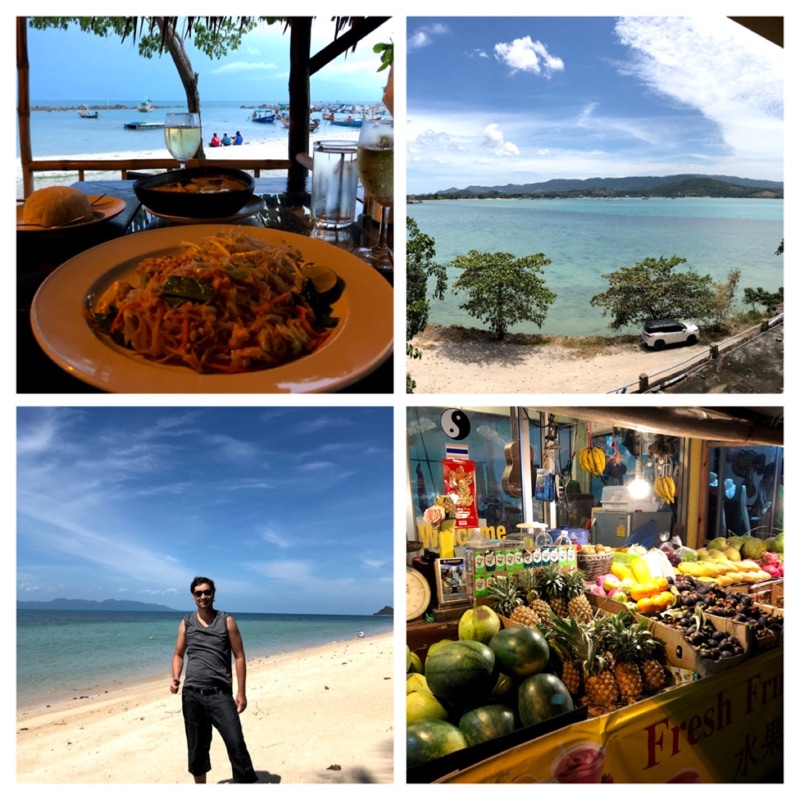 Why Thailand? Well… I had my reasons…
In case you need another reasons to visit Thailand let me tell you a few:
Excellent weather
Good prices
Outstanding food culture
World class healthcare
Safe destination
Nice hotels
Awesome nature
Good service
Friendly people
Furthermore, In order to get a 30 days visa in Thailand, most of the EU citizens don't need any other bureaucracy than arrive to Bangkok and show their passport. For longer stays, it is possible to get another kind of visas for up to 90 days.
Be aware that working in a foreign country with a tourist visa might be illegal even if your work is totally alien to the country. I've heard some stories of police doing random controls in the famous coworking spaces of Chiang Mai. Not sure how these stories finished but it is something to take into account.
Planning
I had always wondered if it was possible to work and travel to such a far away place. Let me explain: travel and work is obviously possible as long as you can work and travel at the same time :trollface:, but being this possible, is it enjoyable?
How much of the stories of the trendy digital nomads were truth and how much were just marketing?
For my workation I had planned to work a minimum of 6 hours a day and I wanted to be sure to have enough time everyday to get a good sleep and have some time to just chill. To accomplish my goal, it was pretty obvious that I should avoid moving too much.
My friend was living in Koh Samui, an island in the south of Thailand with good restaurants, long beaches with crystal clear water and high quality accommodation. So I decided that my best move could be to spend almost the full stay there and take just a few days to visit the impressive Bangkok prior to come back.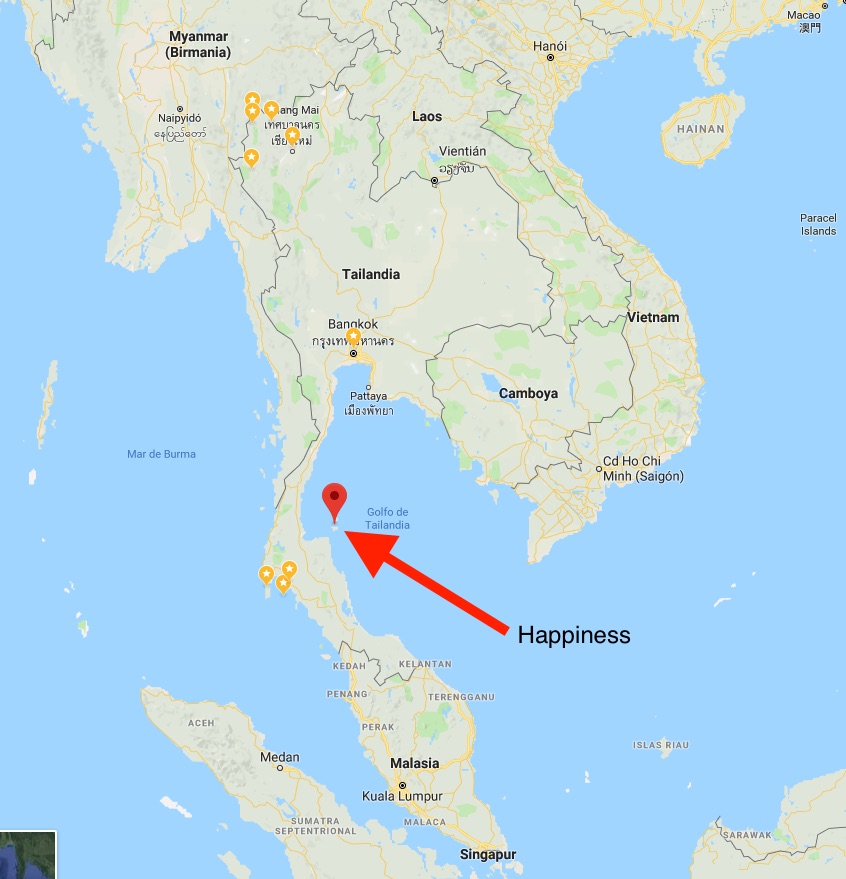 If you type "digital nomad" in Google Images you will see a bunch of people working from the beach in hammocks, fancy benches or even seating on the floor with their Macbook Air. I don't really think anyone can work more than two hours in a hammock or a wooden bench. Not to mention how unhealthy it is for your eyes using the computer outdoors in a sunny day.
As I didn't want to do Instagram pictures but good software development work, I needed to find a place that could provide a minimum of comfort and ergonomy. It didn't take me too much to find a studio just 100 meters from the beach which offered a small desk and a chair. More than enough!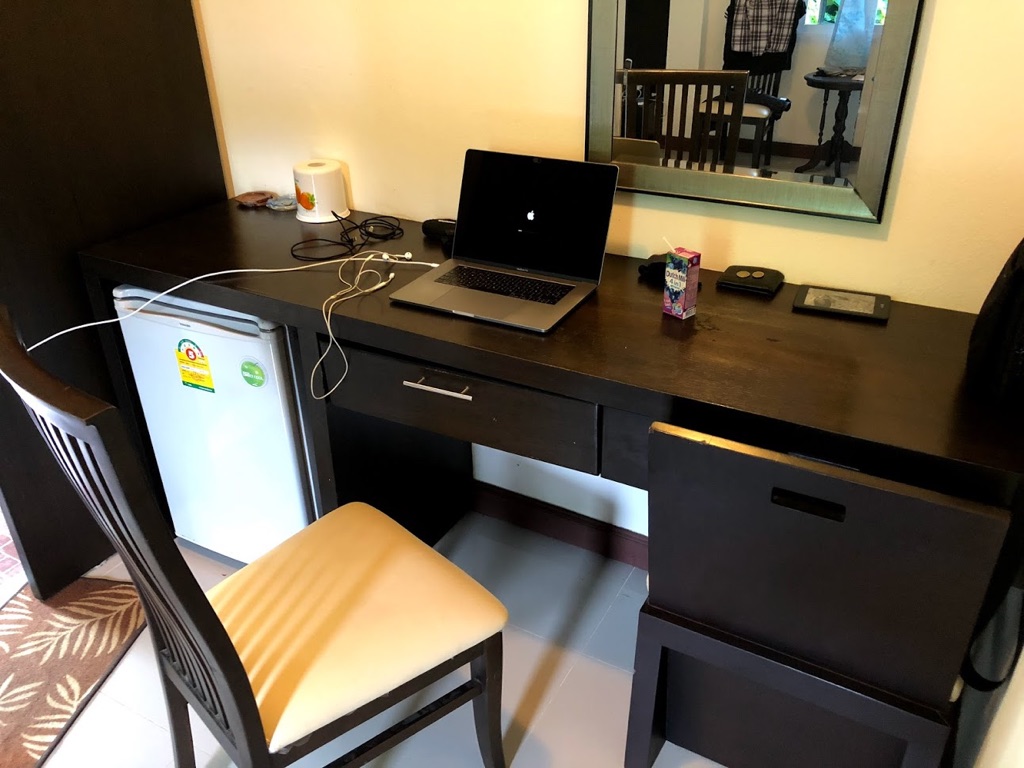 Probably nobody won any ergonomy award for this furniture, but it did the job
Additionally, it also had a small space and equipment for cooking. At that moment I didn't pay much attention to the cooking possibilities but I would discover later that a cooking space is essential. If you can prepare your breakfast, you can be working in just 20 minutes after waking up. Think that all the time you can save on trivial actions is time you can invest later on the beach.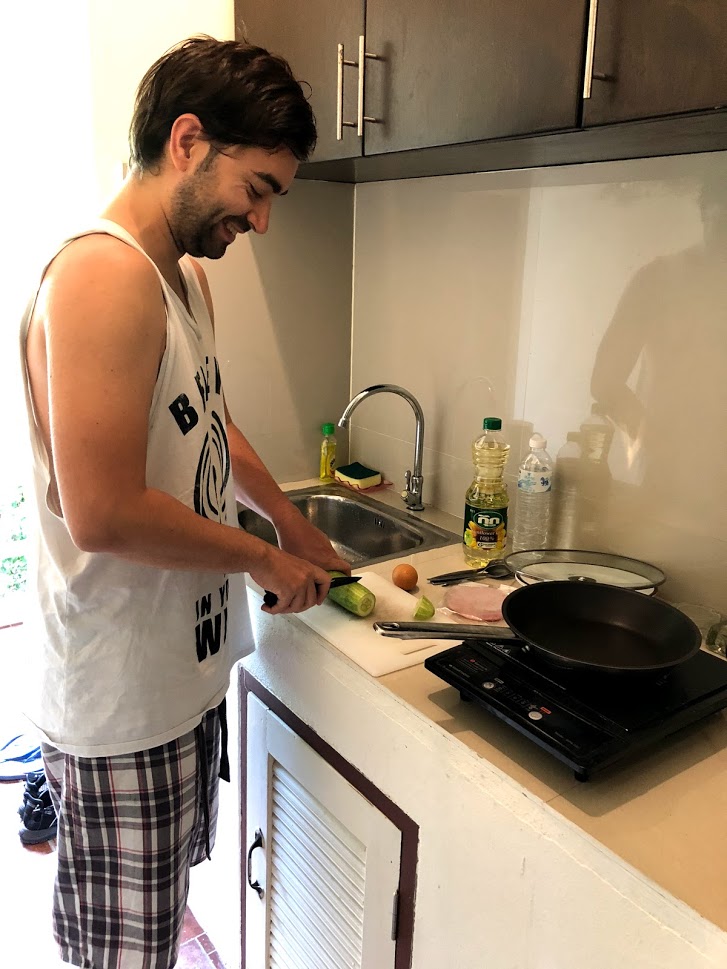 Preparing breakfast before work
As it was low season in Koh Samui, the rent for my full stay was just 170€. I was even tempted to get a luxury place for 350€ but it felt a bit unnecessary for only one person. Also, I was happy to save the extra bucks to pay the flight from Bangkok to Samui.
The airport of Koh Samui is private and was built by Bangkok Airways. This airline has the monopoly of the flights to and from the Island. Although they keep an excellent service with hourly flights, you need to know that this is an expensive 40 minutes flight (120-150€). There is an alternative way: flying to Surat Thani with a low cost company and complementing then with a bus and a ferry.
You can acquire the combined ticket for less than half of the Bangkok Airways flight but I absolutely discourage this option as it is a quite long and exhausting journey for a solo traveler, specially after a 20 hours trip.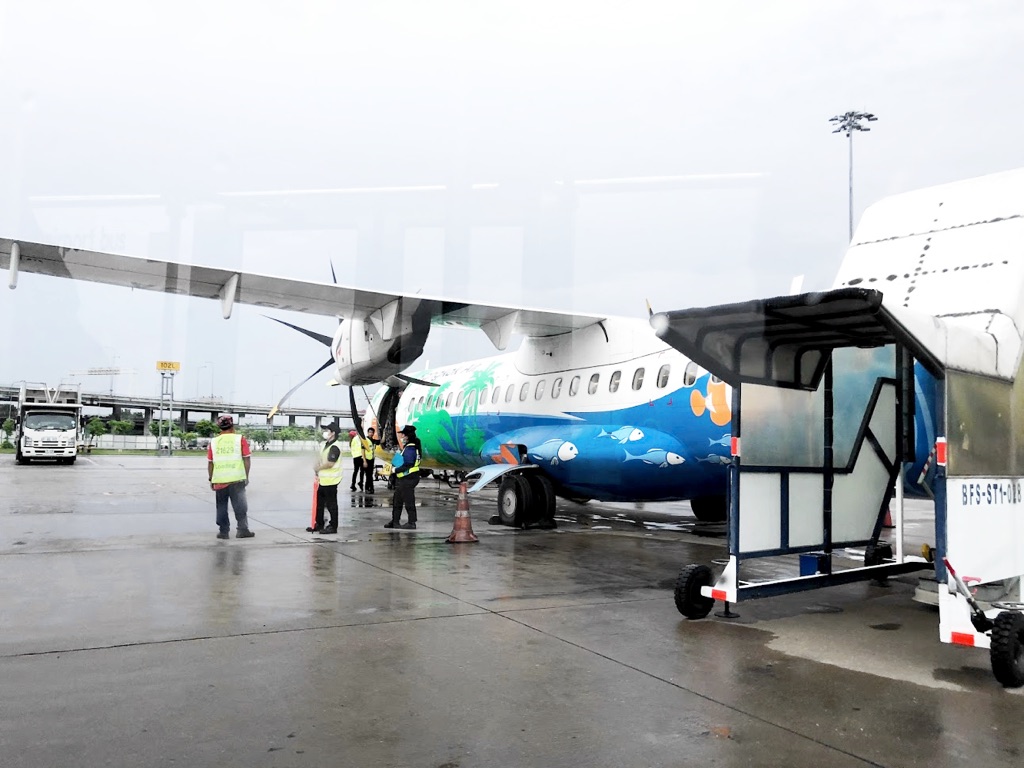 My plane from Bangkok to Samui
I don't pretend to write a post about Samui, but just one tip. In Samui everybody lives from tourism. There are many tourist traps, but there are also many fair people doing business. Thai people is friendly and hospitable. You don't need to take risks or do complex internet researches. If you need something, just talk with the locals and listen for their advice. I wanted to rent a motorbike for my stay, but I was afraid of the several scams you can hear of in Samui regarding to motorbikes. So I just asked the guy from the hotel if he could arrange a motorbike for me from some trustworthy agent. One day later I had the confirmation. 50€ more in my invoice and I got a Honda Click for my full stay. No passport nor crazy cash deposit needed.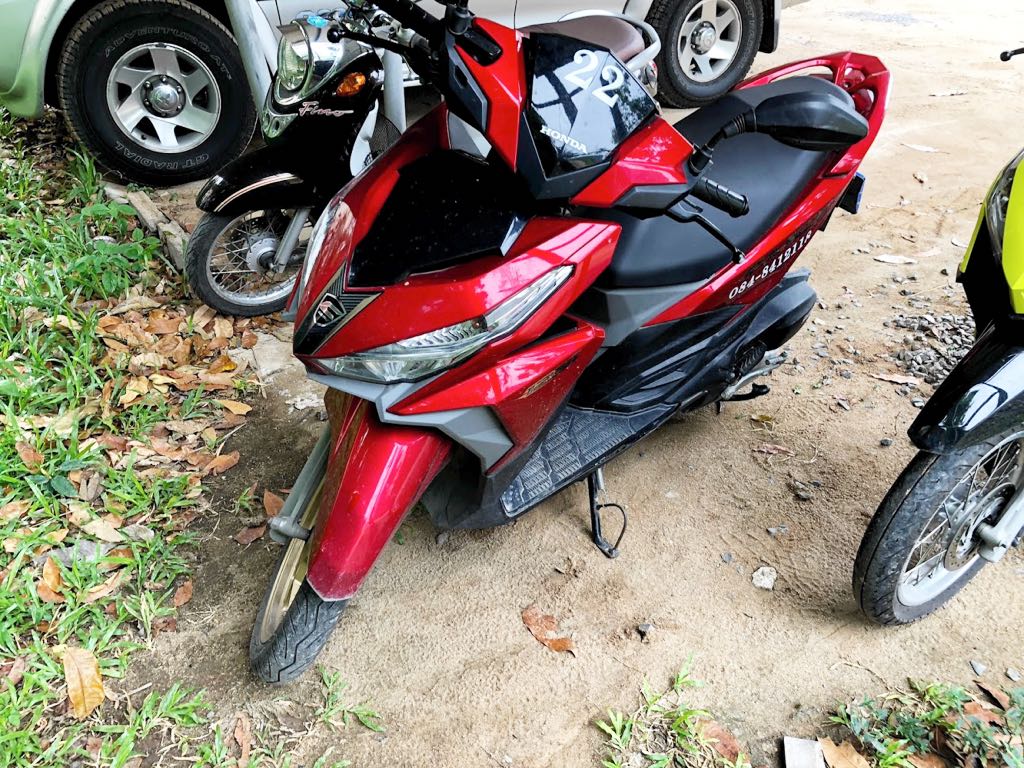 Scam-free Honda Click
I don't pretend to do a traveling post either, but I will also recommend you to get a good insurance. I already had a private insurance that should cover my medical expenses for emergencies, but as you might know, general healthcare companies tend to include a lot of small letters in the policy about traffic accidents and injuries during outdoor activities – among others–. Thailand has world class healthcare but prices are very expensive for foreign people. For around 100 euros I got a good insurance with World of Nomads. They have clear conditions covering most of the activities you may expect to do during your traveling and it also includes some protection for my notebook and my smartphone.
Finally, all that remained was planning my work and to wait for the day. As I mentioned before, I already work fully remotely. All I had to do was to advance a bit the work on projects with tight deadlines, just in case something would happen (like excellent good weather pushing me to the beach) and to notify my managers, to let them know and also to make them jealous.
Working from Koh Samui
After a pretty exhausting thirty hours trip, I did it to Koh Samui.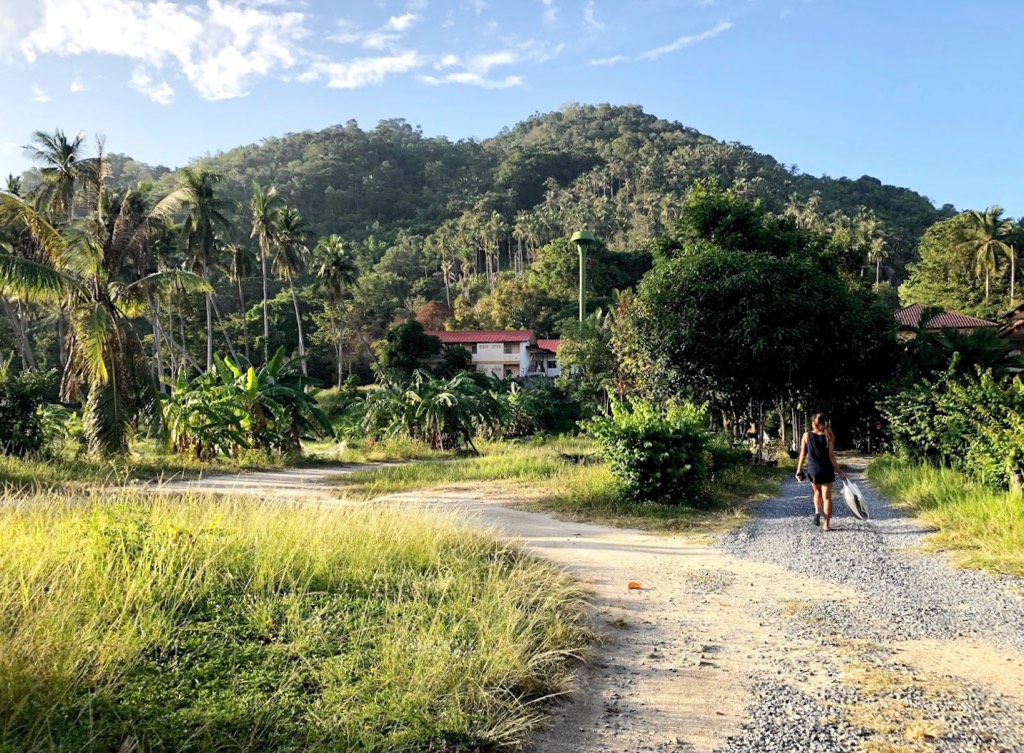 The road from the beach to the house
The studio ended up being a bit dark. The windows were small and sometimes I felt like I was working in a cave. Still, I cannot say I was uncomfortable at all. The table was big enough and the chair was acceptable. The building was in the middle of a beautiful garden full of palm trees and at just 100 meters from the beach. Whenever I felt bored of working I could go to the beach, get a refreshing bath, wait a bit to be dry and come back to work. All in less than 20 minutes.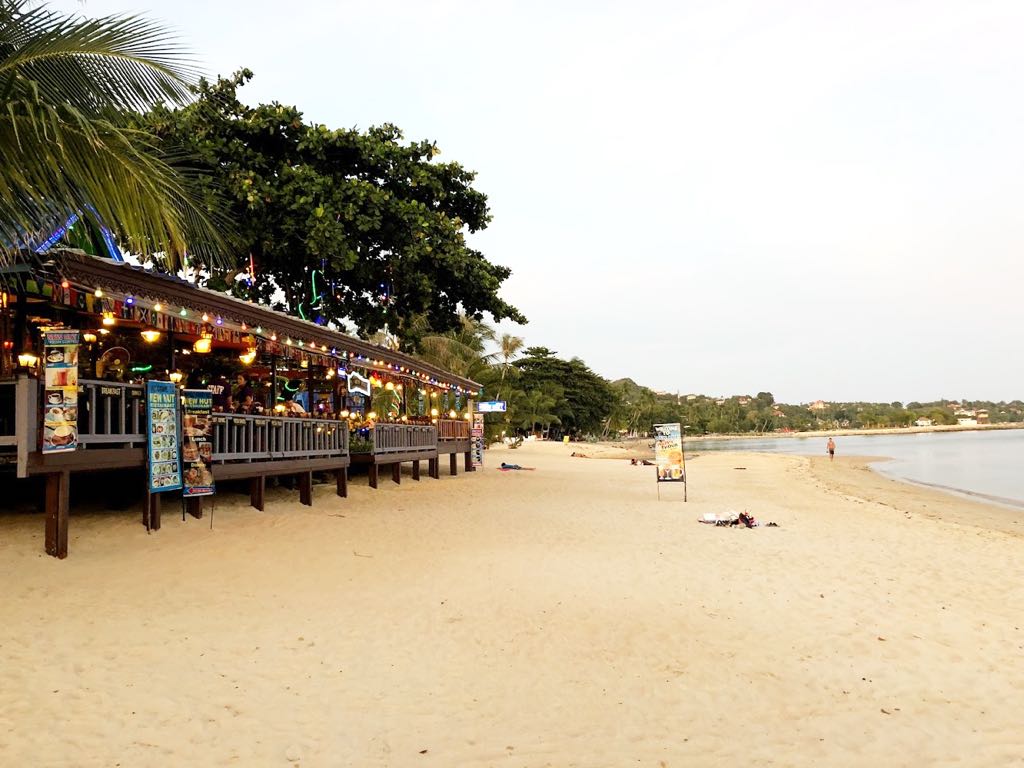 Literally one hundred meters from my desk
I was able to find very fast a routine that worked for me. I would wake up around half past seven and prepare a good breakfast with coffee, scrambled eggs and some fresh fruit (fruit in Thailand is awesome). I would work from 8.30 to 13 approx and then I would go to take a bath to the beach. I would get a good plate of fried rice with chicken and I would have lunch while I was getting dry. Then, I would go back to the studio to work from 15 to 17 approx. More than 6 hours in total, some days a bit more, some days a bit less.
Not bad at all for my first workation!
After 5PM my plans included a mix of sport and leisure. I took my running shoes and garments to Samui, but unfortunately this is something that I will have to improve. I spent all the afternoons tasting different restaurants and cocktails and getting lost in the night markets.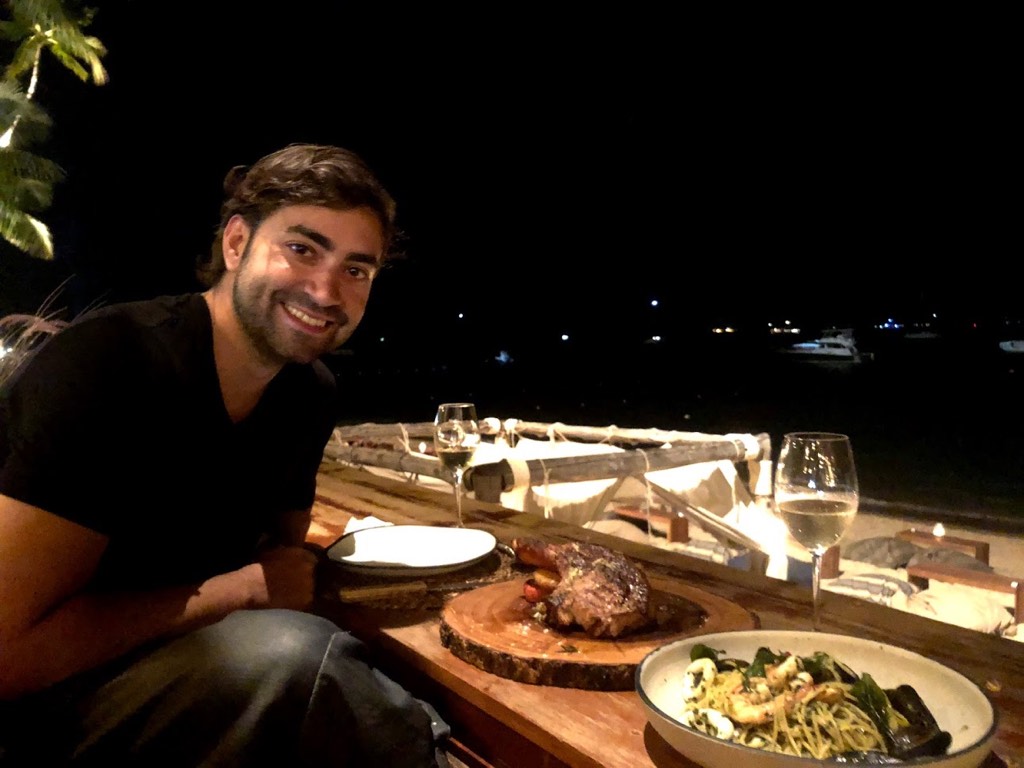 Sport would have to wait
Slow traveling
The majority of people in Samui were tourists on standard holidays. Most of them spending just two or three days in the island. Maybe some of them on their honeymoon for a full week in a resort.
Except for the couples in their honeymoon – that would stay at the hotel ;-) – these people would try to do as many things as possible along the day. Visit a waterfall in the morning, having lunch at whatever special place that Lonely Planet recommends, snorkeling for two hours in the afternoon, enjoying sunset in the famous Jungle Club and having a cocktail in a bar close to the beach just to arrive to the hotel and pack their stuff to continue traveling the following day.
While this is a very valid way to enjoy your holidays, I find this kind of traveling exhausting. A lot of emotions compressed in very little time that feels not enough to be fully aware of all this experiences.
Of course I do this kind of travels myself very often: Iceland, Japan, Canada… But at the end of my holidays, the feeling was that I needed another holidays to recover from the original holidays.
So, I was there without a quick deadline, my agenda was almost empty. And that felt great!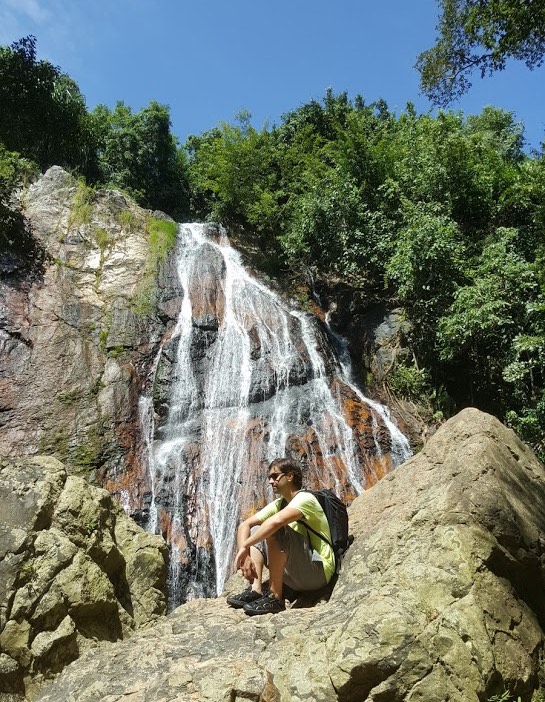 It's nice to do some tourism…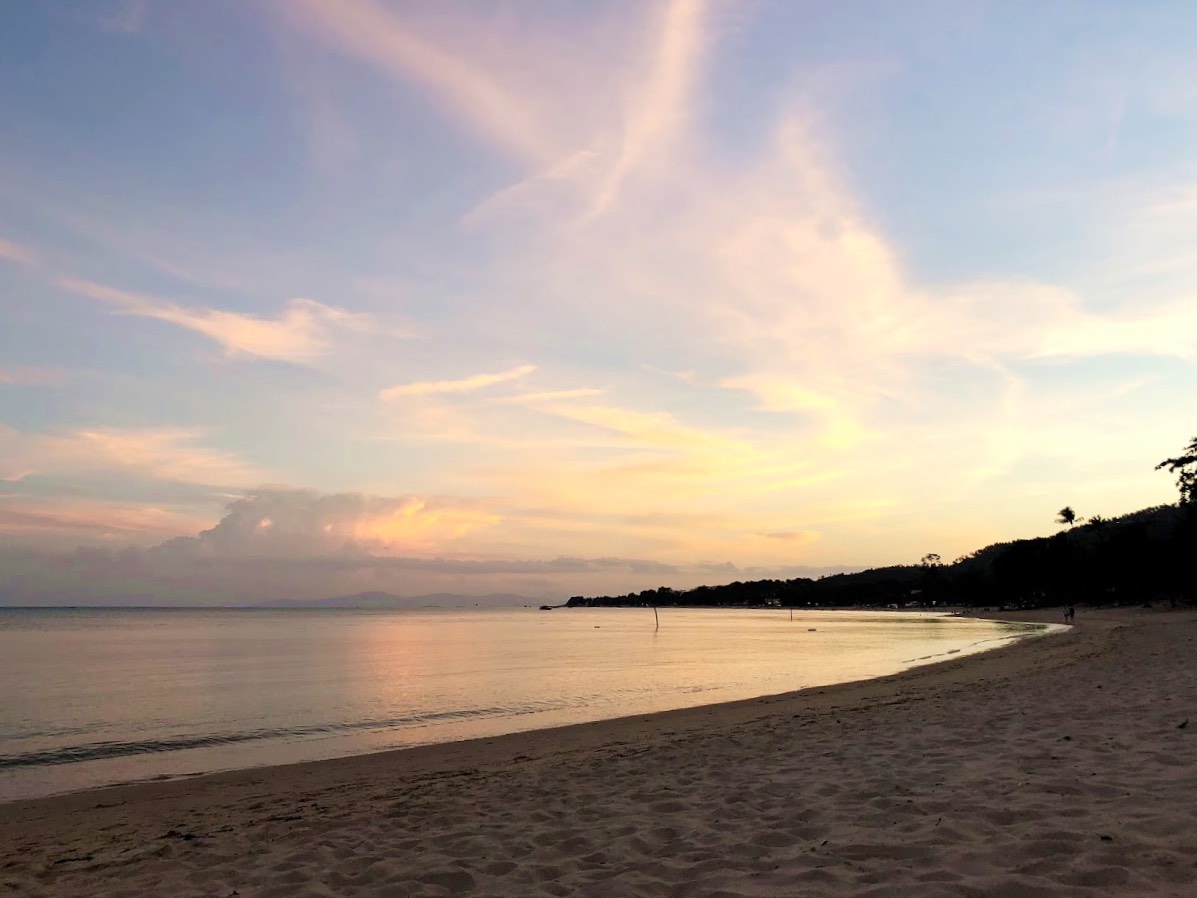 …but most of the time all you need in your life is a walk in the beach during the sunset
When you become a slow traveler you find yourself in a totally different mood than the rest of the tourists. Are you tired today? Ok, go to the beach and relax. Do you want to sleep a little bit more? No problem, no excursions planned. Do you want to get an extra cocktail at night? Go for it, no need to pack your luggage tonight. Did you like a restaurant yesterday? Repeat today and maybe discover a new place tomorrow, no FOMO to fight against to.
Conclusions
I had outstanding three weeks in Thailand. The best part of the year, no doubt about it. So outstanding that sometimes I feel even bad talking about it with people with less flexible jobs. After these three weeks I had to come back to Europe to assist to the yearly Mobile Jazz Remote Week in Gran Canaria. Being very honest, if I didn't have to come back I would have canceled my return flight and I would be writing this post from the Spa Resort while having a good Pad Thai.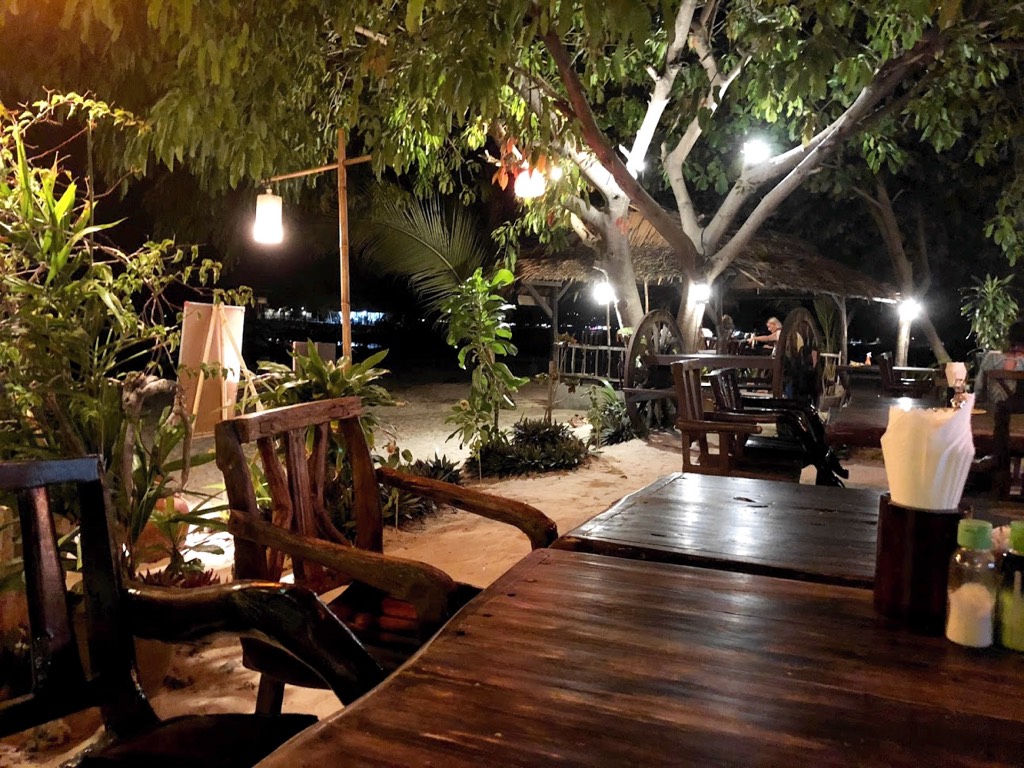 The Spa Resort: My favourite restaurant in the island
Despite I had managed to plan easy work and no deadlines for the time I was in Samui, shit happens. I ended up having a pair of critical meetings and some important work to do. However, everything was fine, proving that working while traveling is totally possible.
On the other hand, there are some lessons that I would like to point out for future experiences:
3 weeks are not enough
I noticed that these kind of trips require a bit more planning than I expected. Also, once there you will need a few days to adapt your body to the local time and find a routine that works for you. Staying only for two or three weeks will make you feel that you are leaving just when you found your place. I think the ideal time should be something between one and three months. I expect to find the optimal spot in a near future.
Get the best internet connection you can pay
People working remotely already will understand this, but for newbies, you need a good quality internet connection.
If you really want to be productive, you need to be able to start your computer and work. If you open your computer and you can't trust your wifi, you may find yourself looking for a good connection from one coffee shop to another. Remember, this is time you could be using later in the happy hour of some beach bar.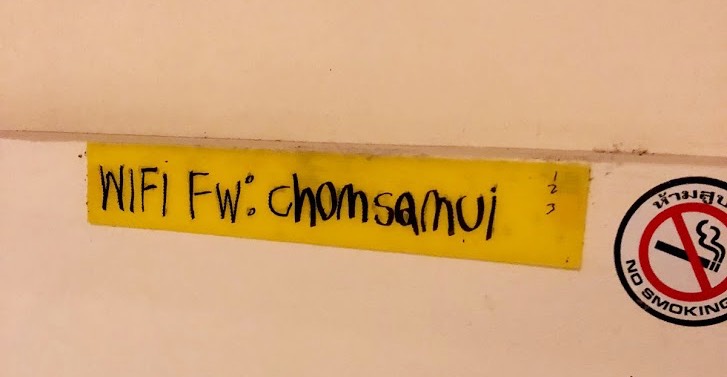 You don't want your productivity depending on signals like this one
Before traveling, I was searching for advice about connectivity and I found one guy in Quora recommending a bar close to Tesco. The guy said something like "Internet is good, but they don't have a toilet there, avoid drinking too much coffee".
Some people are willing to work this way but I have to discourage you. Not having good connectivity, nor a place in which you can work comfortable, makes your day much less productive and much more stressful.
On the other side, if you decide to work remotely, it is your responsibility to find and set up a good place for yourself. Think that your lack of productivity may affect not only your work but your colleagues' work.
Do you know this guy who nobody likes to call because he always needs 5 minutes and 3 reconnections to adjust his headphones in every meeting? You don't want to be this guy.
When I arrived to Bangkok I checked all the offers from the different internet suppliers. The best connection I found was 4G unlimited for 30 days with True: 50€. Whilst this looked a bit expensive compared to the rest of the offers, it turned out to be a great choice. I was able to work from different hotels, taking video calls from coffee shops, restaurants and even the beach. Thanks to this choice I was able to forget about WiFi and I could drink all the coffee I wanted.
Don't tie to a hotel
Use your information as a "local" to get a better hotel. I booked my studio before traveling using Booking. I chose the safest option: a complete studio for one person with good ratings and close to the beach (not many chances that this turned out to be a really bad place).
Everything worked like a charm, I arrived to the place and my studio was ready and prepared for me. However, after a few days, I started to discover the area and I started to see nice places for rent everywhere.
I think now that getting a hotel for the first week and finding something else around would have been an acceptable risk. Maybe I could have found a nicer place or maybe I could have gone for a few days to the other side of the island.
What's next?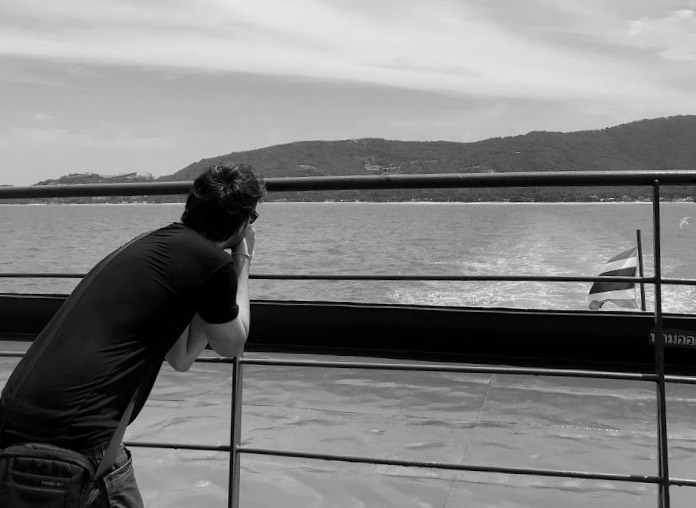 Devastated leaving Samui
After Thailand, I spent two weeks in Tenerife and Gran Canaria, a bit later Vigo, Barcelona and then – finally – I returned to Prague. In some way, I think I just reached my limit of living abroad for 2018.
Fortunately, 2019 is coming soon and it would be a pity to not reuse all this experience and information in a new trip. Specially, taking into account that Prague can Reach -20 degrees in winter.
Maybe I should create an Instagram account.
This post was edited by Lucía Gallego
---